A Quick Review of LifeLock Advantage™
We have covered LifeLock thoroughly in our original review so we will make this one brief on the assumption that you have already read that review. LifeLock Advantage™ is the middle plan in terms of both costs and services offered. It includes all LifeLock Standard™ services:
• LifeLock Identity Alert® System†
• Million Dollar Protection™ Package*
• LifeLock Privacy Monitor™
• Lost Wallet Protection
• USPS Address Verification
• Dark Web Monitoring
• U.S.-Based Restoration Team
Plus:
• Up to $100,000 Stolen Funds Replacement*
• Fictitious Identity Monitoring
• Alerts on Crimes Committed in Your Name
• Data Breach Notifications
• Credit Card, Checking and Savings Account Alerts
• You also get One-Bureau Annual Credit Reports and Scores1
• One Bureau credit monitoring1
Some people will be happy to see their annual credit score, even if only from one bureau, and to receive one-bureau credit monitoring but those looking for credit monitoring at all three bureaus2 plus annual three-bureau credit reports and scores1 plus one-bureau monthly score tracking1 would surely opt for the higher plan.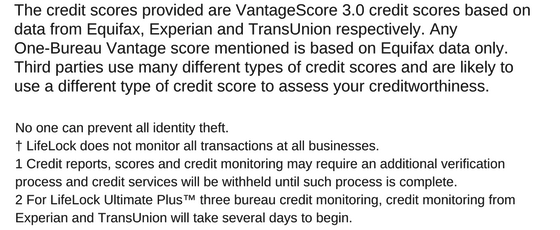 We don't consider the annual credit report much of an offering other than convenience as you can do this for free and stagger the reports from each bureau for best results (see our homepage and resources section for details).
The bank and credit card activity alerts can prove extremely valuable and are explained more in-depth in our LifeLock Ultimate Plus™ review but quickly it allows you to receive alerts for activity on your accounts such as cash withdrawals or balance transfers to help detect fraudulent activity.
Fictitious Identity Monitoring scans for names and addresses connected with your Social Security number to help protect against criminals building fictitious identities to open accounts or commit fraud.
Court records scanning can alert you to crimes committed in your name by an identity thief and allows you to have LifeLock quickly start the process of clearing your name.
Stolen funds replacement* increases from up to $25,000 to up to $100,000, offering an extra comfort level for those with modest savings but still far under the up to $1 million offered in LifeLock Ultimate Plus™. Your Personal Expense Compensation also increases from up to $25,000 to up to $100,000.
Our Opinion
In our opinion those with significant savings of any kind (were talking middle class not rich people here) will and should opt for the higher plan.
We see LifeLock Advantage fitting nicely for those with modest savings, nothing or little in a 401k for example, and for who saving $100 per year means a lot. Additionally its a good fit for those with no savings but have extra reason to be concerned with identity theft especially around crime and/or financial fraud and thus want the additional financial and identity protection this plan offers over LifeLock Standard.
These additional services bring the cost from $8.99/month to $17.99/month or for greater savings $197.90 per year. All prices include our 10% first year discount that we can offer as a valued LifeLock partner. Terms apply.
Just click here to go to LifeLock's secure site and have the discount automatically applied.
Peace of mind is literally a few minutes away and you can choose any plan you like.