Who wouldn't want the Ultimate Protection?
LifeLock Ultimate Plus™ is the most comprehensive identity theft protection that LifeLock offers and for some people that's all they need to hear because even though they know (as we have been saying for years) no one can prevent all identity theft, they understand how devastating identity theft can be.  If that's you, then look no further because in our educated opinion their is no better identity theft protection service anywhere.  For the rest of you let us tell you why.
"Read this review already? Just here for the discount? No need to scroll way down. As a proud partner of LifeLock we are able to save you 10% your first year, just click here to access our promotion or call LifeLock's 800 number (1-800-543-3562) and mention promo code – "Best Offer"." Terms apply.
From Worry to Peace of Mind
We are all worried about identity theft, our credit, as well as checking and savings account fraud. What LifeLock does is give us peace of mind from the questions we routinely ask ourselves (or at least should be asking) such as:
Is someone in my family going to become a victim of identity theft?
Is someone trying to open an account or get credit in my name?
Is my credit protected from identity thieves?
Are my accounts and money vulnerable to fraud?
LifeLock's Identity Alert® system utilizes the latest in fraudulent activity detection technology to discover and address potential threats to their customer's identity, credit, bank accounts, and more. When other companies perform identity scanning by merely searching a few databases located on the internet, LifeLock scans the most expansive network of databases and a broader set of data points (over a trillion) for their customers personal information.
Even when searching the dark web for their customers information, they just do it better. For example, some well known companies merely scan the dark web for your credit card number and call that credit card monitoring but LifeLock goes far beyond that by monitoring both card issuers and financial institutions as well where they can detect new credit card accounts opened in your name unbeknownst to you and then alert you.†
Most importantly, LifeLock Ultimate Plus reviews a vast number of banks and financial institutions for unauthorized applications for new accounts, as well as pragmatic DDA (demand deposit account) alerts and PDA (personal deposit account) alerts, which notify customers if and when their financial accounts have been compromised. This may help prevent account takeovers as you can take action on the alerts you receive.
In conjunction with these defense mechanisms, LifeLock provides alerts, via text, email or phone (during regular local business hours) if and when an identity thief illegally opens an account with your information or changes your account (adding an additional person for example or changing the contact information).†
Other Key Benefits
You would think we were done but there is far more to their service that others just don't offer. In short, LifeLock Ultimate Plus™ includes all services provided by LifeLock Standard™, including the Million Dollar Protection™ Package* plus:
• $1 Million Stolen Funds Replacement*
• $1 Million Personal Expense Compensation*
• Expanded monitoring of personal information across a comprehensive network of databases†
• Enhanced, online reporting of threats†
• Credit Card, Checking and Savings Account alerts†
• Checking and Savings Account application alerts†
• Bank Account takeover alerts†
• 401(k) & Investment Activity Alerts†
• Priority Live Member Support
• File-Sharing Network Searches
• Data Breach Notifications
• Three-Bureau Credit Monitoring1,2
• Annual Three-Bureau Credit Report and Credit Scores1
• One Bureau Monthly Credit Score tracking1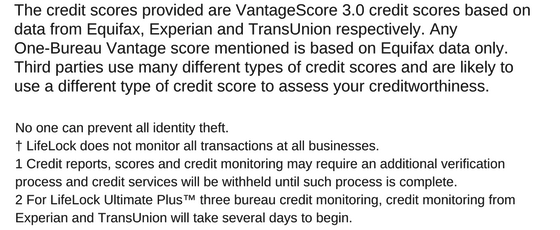 Add to that their own well trained Live Member Support Agents available 24/7, plus their U.S.-Based Restoration Team and it's easy to see why they have become one of the established leaders.
Should I Protect Myself Today?
Well, this is from LifeLock.com but we couldn't have said it better…
"Every day, criminals mastermind new ways to separate you from your identity. They will stop at nothing to infiltrate your credit and checking and savings accounts for their financial gain.

In a world of unprecedented attacks, LifeLock Ultimate Plus™ helps protect you from a wider array of threats to your credit, bank accounts, and identity by seeking out potential threats and helping you defend against them."
In our educated opinion, LifeLock Ultimate Plus is the most comprehensive banking and identity theft protection anywhere. For individuals who can afford the extra cost this is the easy solution.
We are proud to work in partnership with LifeLock so that we can offer you this 10% discount. First year only, terms apply.
Just click here to save 10% on LifeLock Ultimate Plus.
Its time, get the peace of mind you deserve.